"LISTEN HERE AND LISTEN NOW EARTHSCUM! I'M TELLING YOU POLITELY TO NOT MESS WITH MY PROPERTY,THANK YOU!" ~ Miz
ZEE is Miz's SIR Unit she built. Unfortunantly, Miz isn't the best at building anything, so ZEE has a personality of GIR. However, with Zim's help, he got ZEE to cooperate for some minutes of time, like GIR has. Though ZEE has a setting of locking her into complete Duty Mode, Miz thinks ZEE would be less fun to be with, so she never switched her.
ZEE's design is similar to GIR's. ZEE has purple eyes and body parts instead of GIR's cyan colors. When in Duty Mode, her eyes and etc. turn a lime green. She disguises herself as a badly zipper-up pink dog like GIR.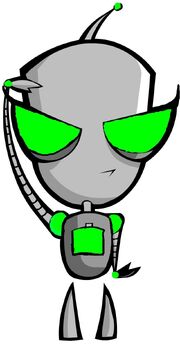 Community content is available under
CC-BY-SA
unless otherwise noted.