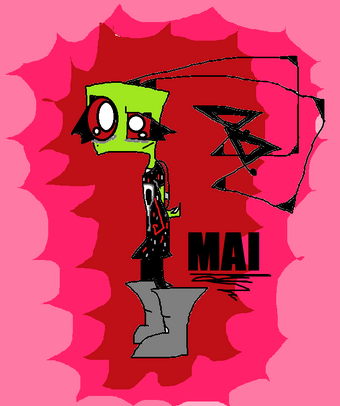 AGE: 18
NAME: MAI
BIRTH DATE: N/A
JOB CODE:N/A
PAK UTILADIES: ATMOSPHERE GENERATOR, SHIELD, SUPER SHIELD, GRABBER CLAW
MEMORY: 67%
HEALTH: 95%
EYE COLOR: BLOOD RED 1012'
INJURIES: 1: FELL OF OF CLIFF IN ACRE MASSIVE CRATER AT AGE 3 AND MESSED UP ANNTENAES
GENDER: FEMALE LOVE INTRESTS: RIP,THE ELITE
PAK CODE: 100056990976329ABRT459

MAI3
HOMEWORLD: IRK
HEIGHT: 4 FT.
MAI is a funny irken and a very odd approchment. What's funny is she has the whole entire covenant on her side and has 4 best friends frome there and has friends from Irk too. Unfortunetly the "demon" killed Flipyap (one of the friends) later on and that caused everyone stress. Air is the only Elite or Sangeheli friend she has and she also is friends with Yapflip another Unngoy or Grunt that is Flipyaps brother and they're cousins with gruntie which is also friends with MAI. Her best friend out of all of the species is Avril. Avril is alike a gangster/party type Irken, she also has Mia but she's MAIs sister and then MAI is also friends with Tak,Jen,Tiesheya,Zill and a whole bunch of others that she knew from daycare, the massive and being born.
MAIs Father and mother are Tallest Purple and Tallest Midnight. Her uncle is Red, Her aunts are Violet and Snowflake, Their cousin is mia (mea), and their 2nd cousin is Quidillia, she and Mia also have a stepmom Aiden.
Community content is available under
CC-BY-SA
unless otherwise noted.