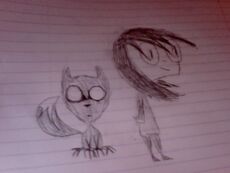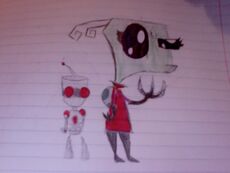 Fin
Specifications
Age

Depends

Gender

M

Color

Metallic Grey

Height

2'6

Additional information
Weapons

Everything

Equipment

Everything

Master

Invader Kir

Notable Facts

Good friend, extremely cute but hostile when told to be, and loves to cuddle, is disguised as a racoon

[Source]
Invader Kir has always wanted to be an invader since her PAK was placed on her as a smeet. When she was very small, she was kidnapped by a traitor Invader for 15 years (Irk years). She had nobody to talk to so she is a little clueless when it comes to showing emotions. But she was finally rescued by the Tallest Red and brought back to Irk. The tallest Red has been secretly training her ever since. She is still struggling to show emotion, and gets a little out of control sometimes, but is always there when one is in need of her. When she conquers a planet, she uses the darker side of herself. Her darker side sometimes takes over but most the time she can force it away. When she gets like this, she will slaughter just about everything in her path to get what she wants. sometimes she'll even go as far as to torture. But not all the time of course. Otherwise she's very sweet and kind. She isn't afraid to tell someone off, and she doesn't take any madness from anyone. In training, her and Zim were good friends (Zim was her ONLY friend) , but when Zim went wrong in Operation Impending Doom 1, she was forced to unfriend him in order to pursue her dream as and invader. Since then she has been waiting to be assignd a planet to take over. But she has not recieved one, even though she's worked tireless hours for the moment she'd be able to conqure a special planet for the Tallest. But she's been wondering if giving up her friendship was worth it, for she has no friends, and no companionship.
Facts:
.Has a weak spot for human childen in trouble (it reminds her of her past)
.Is VERY creative
.Is very close to Fin, her SIR unit
.thinks soap operas are very interesting
Loves horror movies
Looks, Irken:
Red and pink suit
black leggings, boots, and gloves
curled antenna
PAK has blue dots rest is grey
Looks disguise:
Light bron hair
freckles
black everything
blue eyes
hides PAK with cloaking device
Relationships:
IS NOT IN LOVE WITH ANYONE!! EITHER REALLY GOOD FRIENDS OR REALLY BAD ENIMIES!!!
Zim: Was close friends with Zim during Invader training but had to give up their friendship to pursue her dream as an invader. But since she hasn't gotten a planet to conqure, she spends time on earth, being with Zim (even though he doesn't know she's Irken) and trying to summon the courage to tell him she's an Irken.
Dib: they're okay frinds.dib bugs her a lot but she helps him with his machines. He doesn't know she's Irken either.
Tak: Hates Tak. She doesn't like Tak because she's always getting angry with Zim.
Tallest Red: Red saved Kir from a traitor Irken who kidnapped her when she was small. He now trains her secretly and helps her grow some emotion from the years of no social interaction
Tallest Purple: They share snacks...enough said. (AKA they are snacking buddies)
Quotes:
Kir: Zim?
Zim: hmm?
Kir:Do ever feel like no one understands you?
Zim:......Always.
Kir: *puts head on his shoulder*
Zim: !!.... Kir: thinks: I miss this guy..
Red: Okay Kir, just run over there and get me a snack and come back.
Kir: But..I don't want to..
Red: It's part of training!
Kir: No it's not!
Red: *sigh* If I give you some will you get it?
Kir: Yes. * evil smile *
Red: Little turd...
Ki: *goes and gets it while skipping *
Community content is available under
CC-BY-SA
unless otherwise noted.