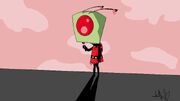 InvaderPD is the daughter of the Red Tallest. She is spoiled with snacks.She is the leader of invader Shishi and Kat. InvaderPD had a mission to take over mercury when Tak's ship hit her.She crashed landed on Zim's house.Pd wants to destroy Zim's plans as a present for the Tallest.PD hates it when Shishi eats her snacks especially her cheesepuffs.Her best friend is Dib and Zim.When she eats to much candy she goes crazy state and tries to kill herself Its only safe when she falls asleep.Skittles is also her stepsister and the tallest love Pd more.No one knows what gender Pd is so they say she's a female.She hates the water because she starts smoking.Pd doesen't have any feelings.She isn't that delicate.Pd wants Grim no matter what it takes.After a freak accident,Pd and Dark Rose morphed themselves to keep Pd alive.Pd looks a little different and sometimes she not in her body.Her known favorite food is poki.
Community content is available under
CC-BY-SA
unless otherwise noted.