Trine Fenfine
(also known as
Invader Trine
) is an
Irken
Invader who was assigned to the planet
Earth
. The Tallest assigned him to Earth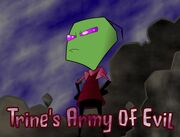 because they knew
Zim
couldn't possibly take over Earth. Trine was not given a
SIR Unit
. Instead, he was given the first GINE unit (Gunfilled Irken Neutral Eater unit) and had an advanced
PAK
. He leads an army called Trine's Army of Evil.
RelationshipsEdit
Trine and Peach have only kissed two times, both being on the lips. But only one time did their lips touch as the other time Trine was wearing his disguse.
Trine thinks Gine is okay. He believes Gine makes a very good sidekick and just needs a little more training.
Community content is available under
CC-BY-SA
unless otherwise noted.