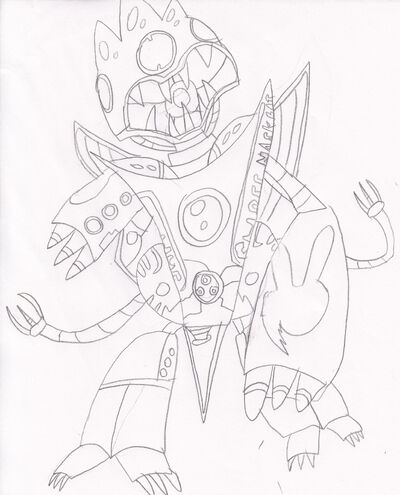 This robot is similar to the original Nark bot. Although it is two times the size of a normal Nark bot, it also has a red and orange color scheme and upgraded weaponry.
Overview
[
]
These robots are considered "back up" for King Nark's empire if Nark bots just aren't enough to take down an enemy. They were created along with Nark bots and Nark's robot minions. The Supar Nark bot is similar to the Nark bot but twice the Nark bot's size,it also has vastly upgraded weaponry. It's also more agressive and fercious then a Nark bot. THe Supar Nark bot is known for it's loud deep roar. The Supar Nark bot is powered by an energy battery in it's chest,located under the thick glass on the sphere on it's chest. It provides a weakspot,assuming it's foes can break through the glass with enough power.
Weaponry
[
]
Missle launchers-The Supar Nark bot has missle launchers instead of hands. It can rapidly fire them at enemies. Also the missles can track enemies by their DNA signature. The tracking system does not work on non living things,such as robots.
Lazer hips-the round "hips" on the Supar Nark bot's body are capable are shooting a pink lazer from it's center at enemies.
Tentacle arms-The Supar Nark bot's back has two teneacle like appendages. It uses them to grab enemies and smash them. THe Tentacle arm's "claws" also have a driller to drill into enemies.
Torso Energy disk launcher- The bottom section of the torso of the Supar Nark bot has a sphere shaped energy disk launcher. It fires blue energy disks to slice enemies in half.
Rage Roar-At the center of the Supar Nark bot's mouth,is a giant audio emitter. It emits a loud roar used to damage it's enemie's hearing. It can also knock enemies away because of it's loud soundwaves.
Battle tactics
[
]
The Supar Nark bot is capable of splitting it's legs in two,revealing rockets it can levitate with.
The supar Nark bot is also capable of living without it's body or head. If the body is destroyed,it's head will hover with rockets and use it's roar to decimate it's foes. If the head is destroyed,the Supar Nark bot is still able to function without one. It's neck stub is now vunerable once the head is destroyed,however.
THe Supar Nark bot is also capable of deploying KIng Nark's minions with the circular hatches on it's arms.