Wait a minute,do we even need a magic page? Usually magic is just: 
STUPIDITY IS THE ENEMY! NICKELODEON IS ENEMY! (talk) 17:53, January 5, 2015 (UTC)
this place is for sci-fi not fantasy, of course it needs an explanation Invader Jib 18:22, January 5, 2015 (UTC)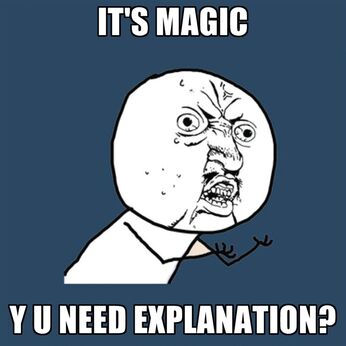 Terminology?
Edit
Maybe we should not use the terminology "magic" but rather something like "3rd dimensional transmutable energy fields" Because that is in essence what it is, and this is much more descriptive.
Well, back to my filthy evil, I guess. 04:46, January 6, 2015 (UTC)INVADER VEX
Community content is available under
CC-BY-SA
unless otherwise noted.