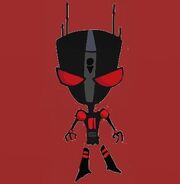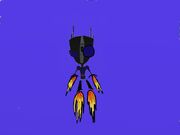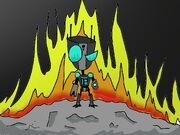 STARE Units are a spinoff model of the SIR Unit invented by Invader Vex. They specialize in stealth and encoded transmissions. STARE Units are equipped with a number of specialized features, but have not been mass produced because of their high cost. Nevertheless, they are one of Vex's most impressive inventions.
Appearance
Edit
STARE Units look, for the most part, like normal SIR Units. They have four antennae, two on either sides of their heads, and a body that looks quite different than standard SIR bodies. STARE Units are also equipped with a PAK like device that four blade tentacles can extend from.
Personality
Edit
STARE Units are generally customizable as far as personality goes, but all are hard working, resourceful, and stealthy. STARE Units can be programmed with either feminine or masculine personalities, although their appearances are "one size fits all."
Equipment
Edit
STARE Units can be fitted with any number of weapons ranging from rocket jets to a Gatling gun to even cortosis armor. The most common pieces of equipment used by STARE Units are high tech radar, signal encryption and decryption softwares, responsive camouflage plating, and even a new molecular scanner and disruptor used for scanning and spying on people or objects from many rooms away. For weapons, STARE Units come with a PAK-like backpack that houses four tentacles made of extremely sharp nanobots, which can slice through almost any material with ease, as well as become longer or shorter depending on the circumstances. In this backpack other weapons are also held. These include plasma guns, plasma blades, and many more.
Distribution
Edit
Several models have been produced, and even fewer have been distributed. The original STARE Unit was created and kept by Vex. Nine other STARE Units have been produced, but only five of them were distributed. Each one is highly customized. Those units have been distributed to the following Irkens:
Existing STARE Units
Edit
Facts of Doom
Edit
STARE stands for Stealth Transmissions And Retrieval Elite
STARE Units, as only six fully functional units exist, are valued at over five million monies.
The "STARE PROTOTYPES" were all STARE Units made to test how the processor can work with the robot body to move, fight, and maintain situational awareness.
No two STARE Units are the same. They often have uniquely machined parts, specialized technology and weapons, and a number of other variations.
Community content is available under
CC-BY-SA
unless otherwise noted.