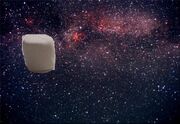 This is a report about the planet Marshonia. It is a planet made almost entirely of marshmallows. It orbits it's sun way too closely, and thus, it's caramel centre has melted. It was on the list of planets the Irkens were supposed to invade, but after Zim destroyed the records during his rampage in Operation Impending Doom 1, the Tallest forgot it ever exsisted.
Community content is available under
CC-BY-SA
unless otherwise noted.