Invader Alpha is an Invader who was a smeet at the same time of Almighty Tallest Miyuki.
Having been a successful Invader for a Hundred Years, you would think that he would be a Tallest, right? No, he chose not to be.
Pre-Invader Life
Edit
Smeethood
Edit
As a smeet, he was extremely abused by the green smeets, and Miyuki defended him, stopping any other bullies from bothering him.
Growing Up
Edit
He and Miyuki were like brother and sister, they even got in a relationship. He even said that Miyuki was going to be a Tallest one day.
Irken Elite
Edit
He was often told that he is a great solder by Miyuki, as the two shared a love relationship. Alpha was even in the Pre-Inpending Doom event.
But, due to Miyuki and Spork's death's by Zim, he was exiled to Dirt for 1 Earth Year, only to come back for Operation Impending Doom 1, to try and discover the Earthling's weaknesses. But, he was left behind again due to Zim, and developed a hatred for him.
Operation Impending Doom 2
Edit
Assigned to many planets, he captured 50 of the 100 assigned.
He even told the Tallest that Zim shall get Planet Earth.
SIR Unit
Edit
Gir-nukecat316s-31170013-640-480.jpg
Zeta
Specifications
Age

70 years

Gender

Male

Color

Silver/Blue

Height

Gir's height

Additional information
Weapons

Blades, beams

Equipment

Long Range Communication, Search Mode

Master

Alpha

Affiliation

Irk

Notable Facts

Attack form looks like I-Ninja.

[Source]
Zeta was given to Alpha during Impending Doom 1, but was never tested by Alpha.
He has many traits and gadgets that others don't have.
The Planet Wreck is a Viral Tank that is modified with lasers, lightning, and more lasers.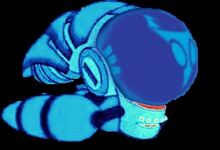 Zeta was Given to Alpha during Impending Doom 1, but never was tested in battle. He has many core features that other SIRS don't have.
Community content is available under
CC-BY-SA
unless otherwise noted.