"I'M RIGHT! I'M RIGHT! ALIENS DO EXIST! THEY'RE INFILTRATING EQUESTRIA! I WILL EXPOSE GREENAGO IF IT IS THE LAST THING I DO!" -Gib
Gib is a Pony and
Invader DlareDlare
's arch nemesis. He wants to expose DlareDlare for his true
alien
self. He is often made fun of because of his unusual pointy hair.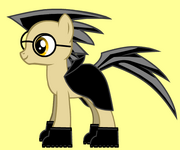 Biography
Edit
He was born on Planet Equestria in the village which DlareDlare landed in, Ponyville. He met DlareDlare and saw through his disguise immediately. After trying to expose him throughout his entire mission, Gib snuck into DlareDlare's base and encountered him. DlareDlare trapped him in a cage so that he could be fed to Xixi. While the Armada was wiping out all life on Equestria, Gib escaped and joined The Resisty.
Appearence
Edit
He has pointy hair (Like Dib), blueish black fur, glasses, and his cutie mark is the face on Dib's shirt.
Realationships
Edit
DlareDlare-He hates DlareDlare like Dib hates Zim. He wants to expose him for his true alien self.
Twilight Sparkle-He wants to prove to her that DlareDlare is an alien.
Lard Nar-He is somewhat loyal to Lard Nar. He thinks he is a good leader.
Shloonktapooxis-He thinks that Shloonktapooxis does not make a good second in command. Gib thinks that he should have Shloonktapooxis' place.
CLAR-Pretty good friends. They may have a Pony/Robot crush on each other.
Community content is available under
CC-BY-SA
unless otherwise noted.