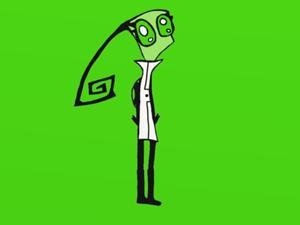 Comatose is a female Irken scientist who works for Invader Ark.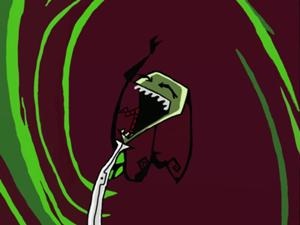 Comatose is different than other Irkens. Her PAK was slightly damaged when it was installed, and this caused her to have some problems. She's incredibly smart when it comes to science and math, but when she tries to apply her skills to anything physical, her PAK glitches, her brain overloads, and she goes crazy.
It was extremely hard for Comatose to find work. No one wanted to employ someone with such a large disorder, and she went for about a year and a half without a job. Fortunately, she met Invader Ark, who employed her. She has worked for Ark ever since.
PERSONALITY
Edit
Comatose is very eager to broaden her knowledge of the universe. She is also very determined, much like Ark, when given a task, and does not give up easily.
RELATIONSHIPS
Edit
Invader Ark- Comatose sees Ark as a great friend and employer.
Invader Vax- Comatose and Vax are both great scientists, and worked together on Planet Vort for several years. They are friends.
Nightmare Ark- Comatose wishes she was telekinetic like Nightmare Ark. They have never met, but Comatose has heard a lot about her from Nightmare Comatose.
Vira- Vira and Comatose are the best of friends. Comatose is Vira's favorite person in the universe.
Nightmare Comatose- Comatose's counterpart doesn't have the same problem with her PAK as she does, and this infuriates her. However, she still sees her counterpart as a sister.
SO- SO is always very loyal, and Comatose will trust her with anything.
Zim- Comatose often hears about Zim's moronic rants to the Tallest during us "reports," and thinks he's hysterically stupid.
GIR- Comatose doesn't know GIR personally, but has heard stories about him. She thinks he is sort of cute but really, really dumb.
Facts Of Doom 
Edit
Comatose is so tall and her antennae are so long because of her disorder.
Comatose worked in a Vortian lab until she was kicked out for going crazy when her PAK glitched.
"HELLO, JIB! WHAT A LOVELY EYE YOU HAVE THERE..."
"I'M NOT CRAZY! WHO SAID I WAS CRAZY?"
"SO, I am NOT going to bow down to those... FREAKS!"
"My name is Comatose. And yours is... Um... I can't remember."
Community content is available under
CC-BY-SA
unless otherwise noted.