Jurassic World: Dominion Dominates Fandom Wikis - The Loop
Play Sound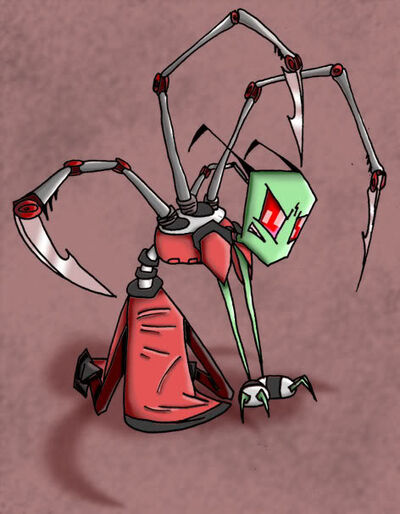 Almighy Tallest Ken is an Almighty Tallest with a higher kindness factor than Red and Purple.
Kenneth A. crasnalionus

age

two irk years (he was created as an adult, not a smeet.

rank

almighty tallest

aliases

almighty tallest brown


ken


Mr. PAKless fourarms


brown cockroach


vampire


fangs


chocolate

appearance

an exra pair of retractable arms


two retractable feelers


humanlike canine teeth


brown eyes


three retractable taloned fingers on each hand


internal PAK


fake PAK on back

weapons

talons


canine teeth


gravity deactivator


PAK termintor

abilities

infrared eyesight

manipulating other tallests


immunity to water


immunity to earth meat


corrosive blood


emitting hawklike screeching

fun fact

as a smeet, ken was one of Zim's accidental genetic experiments. zim designed him to be like other irkens, but also be most important for his secondary pair of arms.

likes

all irken invaders (even zim)


SIR units


GIR


combat


Poop colas

dislikes

almighty tallest red


almighty tallest purple


irken dentists
Immunities, Weaknesses, and Contrasts from other Irkens.
[
]
Unlike most Irkens, Ken has an immunity to any Earth element, including water, beans, and meat, but still gets huge zits from bacon. He also has almost completely human teeth, but he still has a segmented toungue. Ken has four retractable arms and two retractactable feelers. He also appears to be allergic to dairy.
Quotes
[
]
"Oh, this retractable arm? Well, my human worm baby, this is just one of my birth defects."
"I LOVE BEANS!!!"
"I HAVE A NORMAL WORM-BABY'S GENETIC SIGNATURE! I DO!!! YOU LIE!!!"
UGH!!! Vanilla tastes horrible!"
"AGH! I AM ALLERGIC TO DAIRY!!!
Trivia
[
]
Ken is a slight reference to Stitch from the Disney animated classic Lilo and Stitch.
If picked on by Tallest Red or Purple, Ken will pummel them both until they are unconscious.
Ken is able to emit an extremely loud screech that resembles a hawk screech.
Ken was specially designed to have more than one organ to fool X-rays to think he's human.
Ken, unlike other Irkens, has red blood, so when he bleeds, humans do not notice he is an Irken.